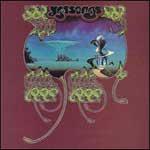 Seconda parte
A questo punto è necessaria una, sia pur forzatamente sommaria, elencazione (non di merito, sia chiaro) degli album la cui conoscenza è, a mio parere, imprescindibile per una corretta e fruttuosa comprensione di questo grande periodo della musica popolare contemporanea:
FOXTROT (72), SELLING ENGLAND BY THE POUND (73) e THE LAMB LIES DOWN ON BROADWAY (74) dei Genesis;
THE YES ALBUM (71), FRAGILE (72) e CLOSE TO THE EDGE (72) degli Yes;
ATOM HEART MOTHER (70), MEDDLE (71), THE DARK SIDE OF THE MOON (73) e WISH YOU WERE HERE (75) dei Pink Floyd;
TARKUS (71) e BRAIN SALAD SURGERY (73) degli E.L.P.;
IN THE COURT OF THE CRIMSON KING (69), IN THE WAKE OF POSEIDON (70) e LARK'S TONGUES IN ASPIC (73) dei King Crimson;
IN SEARCH OF THE LOST CHORD (68) dei Moody Blues;
AQUALUNG (71) e THICK AS A BRICK (72) dei Jethro Tull;
TUBULAR BELLS (73) di Mike Oldfield;
PAWN HEARTS (71) dei Van Der Graaf Generator;
THE SNOW GOOSE (75) dei Camel;
IN THE LAND OF GREY AND PINK (71) dei Caravan;
VALENTYNE SUITE (69) dei Colosseum;
FAMILY ENTERTAINMENT (69) dei Family;
JUST A COLLECTION OF ANTIQUES AND CURIOS (70) degli Strawbs.
E, a dimostrazione di quanto stabilito nella premessa, gli stilemi progressive hanno influenzato anche gruppi fondamentalmente estranei a quella scena, ma che, riletti in un'ottica più complessiva e comprensiva, tanto hanno avuto, ma anche tanto hanno dato, allo sviluppo del nostro genere e, più estesamente, all'evoluzione dell'intero movimento rock:
sto parlando dei LED ZEPPELIN di Robert Plant, del chitarrista Jimmy Page e del tastierista/bassista John Paul Jones (il riferimento riguarda essenzialmente gli album LED ZEPPELIN IV e HOUSES OF THE HOLY);
dei DEEP PURPLE di Ian Gillan, del chitarrista Ritchie Blackmore e del tastierista Jon Lord (il pensiero va alla trilogia IN ROCK, FIREBALL, MACHINE HEAD);
dei BLACK SABBATH di Ozzy Osbourne e del chitarrista Tony Iommi (alcuni episodi dei primi album, tra l'altro impreziositi, in incognito, dalle tastiere di Rick Wakeman);
dei TRAFFIC di Steve Winwood (in particolare l'album JOHN BARLEYCORN MUST DIE);
dei BLUESBREAKERS di John Mayall (nello specifico, l'album BARE WIRES);
dei QUEEN di Freddy Mercury e del chitarrista Brian May (certe tentazioni operistiche e barocche presenti nei primi album);
dei ROXY MUSIC di Bryan Ferry e del tastierista Brian Eno (essenzialmente i primi due dischi, quelli, appunto, con Eno);
dei SOFT MACHINE di Robert Wyatt (i primi tre album, in bilico tra psichedelia, jazz e progressive).